The Brothers Bouroullec
Today, I took a bike ride down the side of Lake Michigan for my inaugural visit to the Museum of Contemporary Art in Chicago. Despite having lived here for more than a year, I've never made it down to the MCA. Sitting in the shadow of the Hancock building and Mies' Lakeshore towers, the building is a strict concrete box.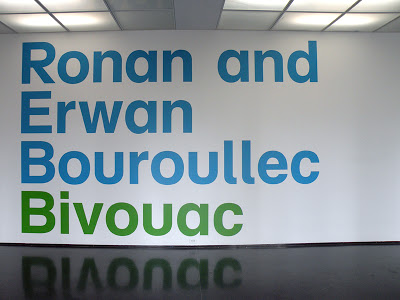 They seem to favor the blue and green.
The show that finally lured me downtown was Ronan and Erwan Bouroullec: Bivouac. The Bouroullecs are French brothers, born in the early 1970s, who have been practicing since the mid-nineties. They first started garnering some serious attention around the time I was an undergraduate studying architecture, popping up in the design glossies and various museums. By 2009, when they appeared in Gary Hustwit's industrial design documentary Objectified, they had ascended to a rare plane, working across the borders of art, architecture, furniture design, design theory, and mass-market manufacturing. They have produced pieces for Cappellini, Ligne Roset, Alessi, and Vitra, amongst others.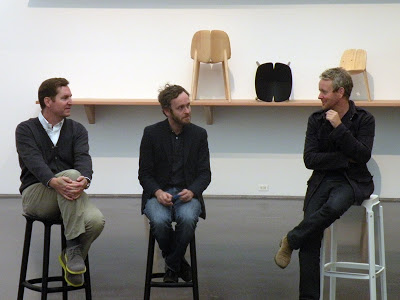 L-R: Michael Darling, Erwan Bouroullec, Ronan Bouroullec.
Their approach unselfconsciously hearkens back to the mid-century masters referenced so often on this blog: Charles and Ray Eames, George Nelson, and Jean Prouve (un-coincidentally distributed by Vitra as well). Each piece is meticulously iterated, stripped to its essentials, and made with physical and aesthetic durability in mind.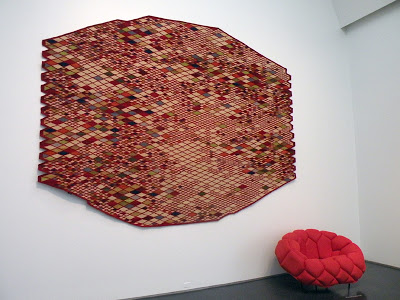 Rug, hand-dyed and knitted in Pakistan.
Detail.
Joints are often exposed, but impeccably machined. Metal and wood interact crisply. Humble materials are elevated through honorable treatment. Complex structures are made out of small, repeated organic units. An implicit trust is granted the consumer with self-assembled, flat-pack pieces. Micro-architectural elements -- screens, dividers, furniture with walls -- define space and develop a private-public dynamic.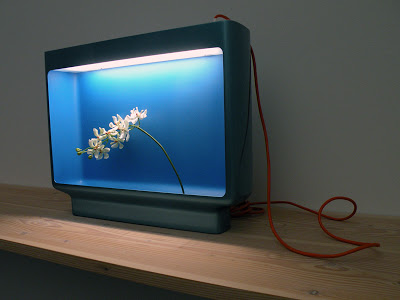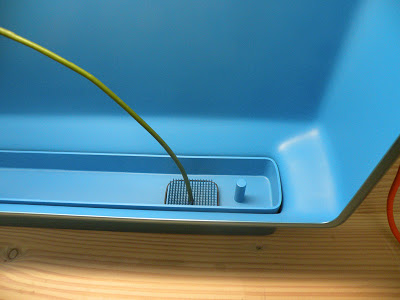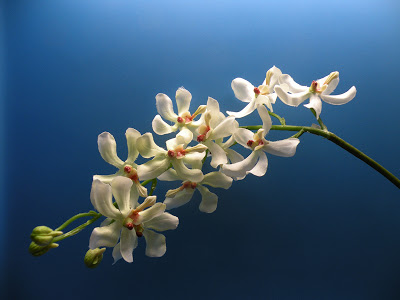 The light and blue background make the flowers pop.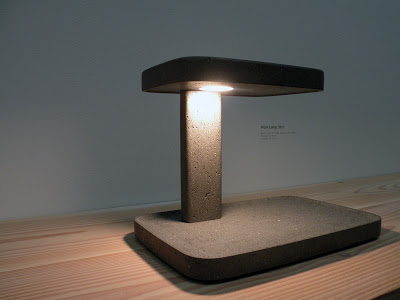 Piani Lamp, carved out of basalt.
In conversation with curator Michael Darling (whose master's thesis was on George Nelson), the Brothers dropped a lot of memorable quotes in sharply accented English. Erwan, the younger brother, looked an awful lot like a bearded Edgar Allen Poe. Like many such design talks I've attended, this one was kind of cryptic and rambling, (in a good way). Some quotes:
Erwan: "We couldn't really cope with society." (on their pieces of furniture with walls)
"We don't do bespoke furniture. It is for the universal man."
"We try to erase the sign that says 'use this thing in this certain way . . .'"
"A dark-top table means for everyone 'management.'"
"We want to come into a space, completely change it, and leave no trace. Like a circus." (in response to a question about the name of the show, Bivouac)
"A chair is a pop song."
"I quite like the lightness of consequence of object design."
"Better production. Less consumption."
Ronan: "The world is quite ugly. We are here to define a certain way of living."
"100 years ago, a family of four was surrounded by 200 objects. Now, it's 2,000.
The quality has gone down."
Detail.
Erwan, 36, and Ronan, at 41, are just entering the middle of their careers. I think it is not too early to christen some of their work iconic, or classic; others already have. Hopefully I'll get a chance to own some of their pieces. In the meantime, I'll settle for a monograph. Autographed.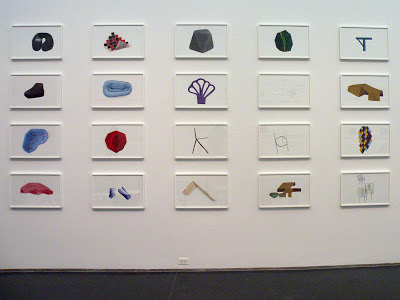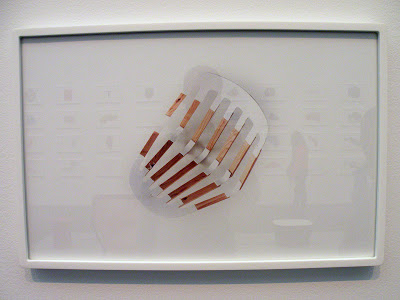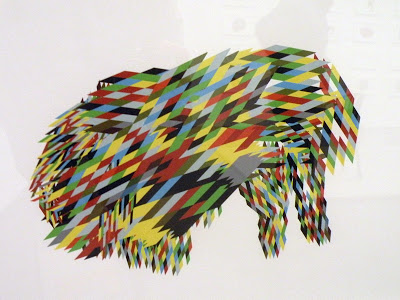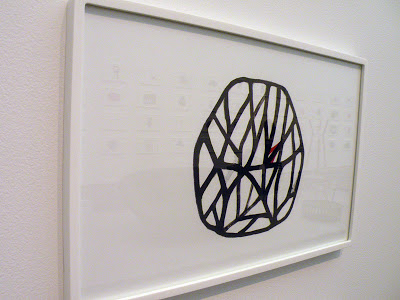 Sketch for Vegetal Chair.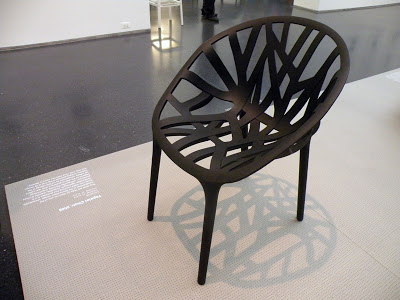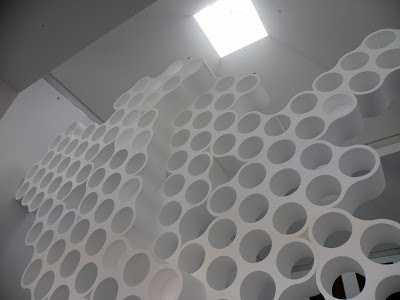 Cloud Modules, made of styrofoam, one of their first widely-remarked-upon pieces.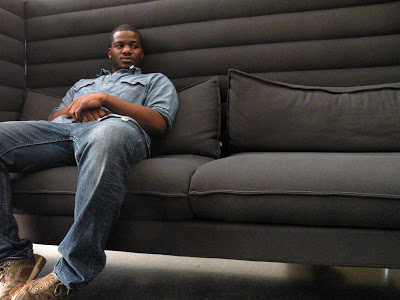 Titus maxin' in the Alcove Sofa, one of their micro-architecture pieces.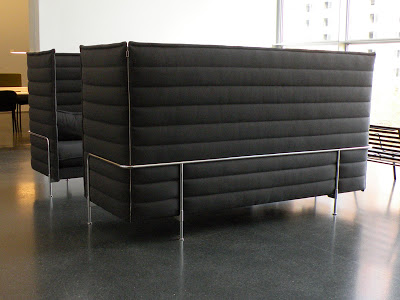 The walls can zip down to open up the space.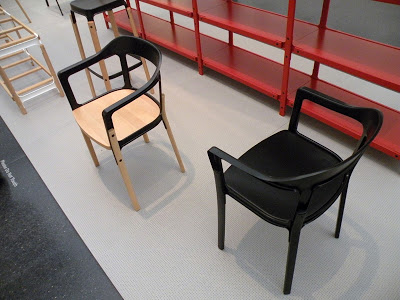 Gorgeous interaction of steel and wood; one stamped shell and five structural wood members. Hearkens back to my boy Prouve.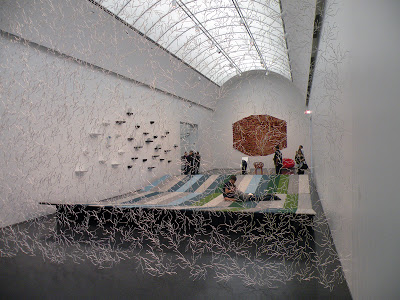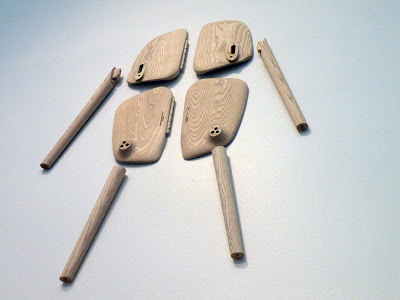 Osso Chair. Straight legendary status. Eight pieces, machined perfectly.