Kitted Out
I've always been entranced by kits. As a kid, I had a science kit full of little vials and electronic bits, all of which were gradually swallowed by couch cushions and carpet seams. Legos, the gateway drug to my architectural lifestyle, are the apex of modular, reconfigurable toys. I also had Construx, now defunct, which used plastic bubbles and bars to make assemblages. Erector Sets, K'NEX, and Froebel Blocks are all part of the same genre, attempting to fracture the ultimate geometry of the world into a set of discrete, elemental pieces.
Now, I find myself investigating the erector sets of the adult world. A recent article on Design Observer laid out the history and rationale of my old nemesis, container architecture. The author ties it into a larger history of capsule and modular architecture, linking Buckminster Fuller's Dymaxion House to the modern shipping container iterations of Lo-Tek, Shigeru Ban, and MRDV. This push towards rationalization, modularity, and a set of common dimensions has created a whole class of "standard" industrial objects: shipping containers, dimensional lumber, concrete masonry units, Jersey barriers, oil drums, tires, etc.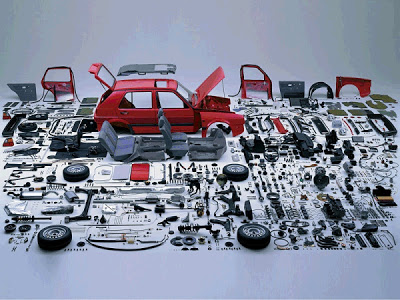 Kitted out. Always be knolling
In many ways, standardization is something to be cheered. It drives down costs by making dissimilar items interface more easily, smoothing the transit of people and goods. However, the dream of mass-manufactured, pre-fabricated, standardized housing, voiced by modernists from Le Corbusier on down to Marmol Radziner, has been stubbornly difficult to realize. The idea of a turn-key, deliverable box is so neat and clean! Modernists love it! Architecture on a truck! But pre-fab robs architecture of context and specificity, turning our most cherished bastions of individuality -- our houses -- into the sort of monotonous set-pieces we see in commercial buildings. Every McDonald's looks more or less the same. Every Wal-Mart is a repetition on the same theme, regardless of climate, topography, or urban situation.
Pre-fab has also never been able to truly deliver promised cost savings. Sure, trailer homes are cheaper at point of purchase, but they depreciate like other consumer durable goods, whereas a house is an asset that grows in value over time. The rigidity of pre-fabrication usually means modifications, renovations, and changes are difficult.
That's why some folks, like the Rural Studio, are more focused on creating a sort of kit house, where detailed material inventories and cut lists can streamline the site-built construction process. Simpson Strong-Ties systemize certain construction joinery into fool-proof, structural connections. The WikiHouse is taking advantage of still-nascent 3-D printing and CNC-milling technologies to make downloadable, printable homes that can be put together by a novice. Earthships use industrial refuse -- tires, aluminum cans, and bottles -- and a modular floor plan in concert with adaptable blueprint sets to make self-sufficient habitats.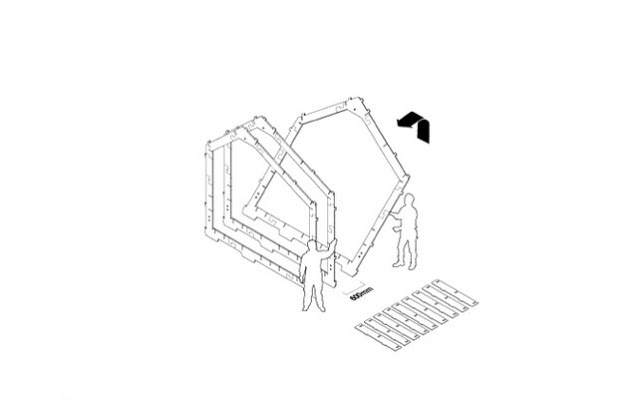 WikiHouse.
Furniture is different. It is smaller, cheaper, lighter, and more adaptable than whole houses. IKEA has built an international empire on this assumption. Oft-derided for their incomprehensible cartoon directions, IKEA has still created a market for simple modern furniture, put together with nothing but a hex key. A thriving online community has grown up around hacking these designs, re-inventing the kits into a sort of post-modern blonde-wood collage.
I've long thought that there must be a kit out there that can convert standard lumber into furniture, and a little searching brought up dozens of attempts. Here are a few to browse:
Industrial Joint Furniture Kit
I am still chewing over possibilities. I would love to create a furniture Esperanto of sorts, allowing bits of wood, bamboo, electrical conduit, what-have-you to all click together into living assemblages. This universal grammar is elusive, structurally sneaky, visually inelegant, refusing to be named. But someone will find it. Mark my words . . .