Made Now
A few weeks ago, I put up a post about Tumblr, Pinterest, and this current fetish for curation on the internet. With so much content out there, it's easy to get trapped into an endless cycle of re-posting and recycling without respecting the source.
A few days ago, I finally joined the smart-phoned ranks. Inspired by a few Tumblrs of original content that I enjoy, and the new tool at my disposal, I've hammered out a new addition to the Object Guerilla family: Made Now.
Made Now is a Tumblr of what I make, daily, in real time. The caption is the date and time. The tags explain in a few words what it is, but, in the spirit of Tumblr, it is meant to be consumed as images.
Smartphones and technology are often blamed as carriers of distraction, destruction, and desperation. I am often one of those cranks, shouting silently at the hooded hunchers on the train -- look around you!
I want to turn this computer in my pocket into a tool for mindfulness instead of a twittering, Facebooking tyrant. Hopefully this practice will discipline my making, focus my energy, and serve as an accessible record of my education as a craftsman, designer, and architect.
Subscribe now!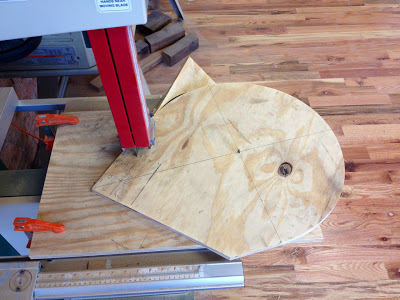 3.5.13 / 11:51 AM. Circle cutting jig.