Paolo Soleri
As I write this, it is a cold and rainy April in Chicago. Forty degrees, slanting drizzle, ugly wind, a winter that just won't seem to pass. Five Aprils ago, I was in Cordes Junction, Arizona, living and working at Arcosanti. It was much warmer there, dry and sun-whipped.
Arcosanti was founded by Turin-born architect and artist Paolo Soleri, who passed away on April 9th at the age of 93. I had the good fortune to meet him a few times while I was living there, though he spent most of his time in Phoenix by that point. When I lived at Arco, in 2007-08, Paolo was still president of the board of the Cosanti foundation, and drove up once a week to give lectures.
Sketch I made of Paolo at one of his lectures, autumn, 2007.
Paolo came to America in 1946 after earning a Ph.D in architecture from Politecnico de Turino. He then joined the Taliesin Fellowship, Frank Lloyd Wright's ersatz architecture school and apprenticeship system. The students lived communally, migrating between Spring Green, Wisconsin, and Scottsdale, Arizona to take advantage of the weather. After about 18 months with the fellowship, Soleri returned to Turin and undertook a commission for a ceramics factory. There, he took up ceramic and bronze casting as an art, and built part of the factory out of pots.
In 1949, in partnership with Mark Mills, Soleri designed and built the Dome House in Cave Creek, Arizona. Borrowing heavily from Wright, including his signature "desert concrete", it was essentially a hole carved in the desert floor, roofed with a dome and a unique rotating sunshade that allowed for passive solar heat and cooling. Soleri ended up marrying the client's daughter, Colly Woods, and settling in Arizona in the mid-fifties.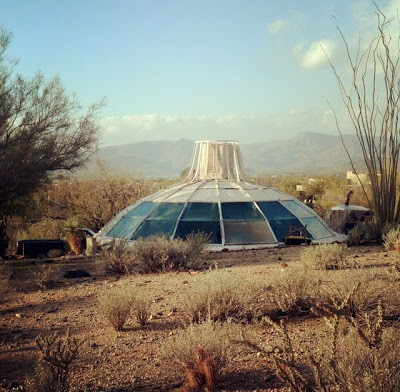 Dome House.
For the next fifteen years, Soleri established a home and studio in Scottsdale (back before it was swallowed up by Phoenix and turned into a tony suburb) and made a living by casting bronze and ceramic art pieces and windbells. He worked in a studio partially made from pre-cast concrete sewer pipe parts and experimented with siltcasting both ceramics and concrete. Silt, or fine, sieved sand, is shaped into a mold, then filled with liquid clay (slip). The dry sand draws the moisture out of the clay, gradually creating a vessel. Soleri translated this to an architectural scale, mounding up desert sand with a bulldozer, compacting it, and pouring concrete on top. Once the concrete cured, he excavated the from from the inside, revealing the structure.
In 1970, Soleri founded Arcosanti. An hour or so north of Phoenix, it is a prototype city, perched on the edge of a mesa. Drawing from Soleri's youth in the dense, pedestrian-oriented cities of Europe, Arcosanti was meant to be a town that eliminated the car from daily use while producing its own food and energy. I first read about it in the Kid's Whole Future Catalog, checked out from my elementary school library. Once my family got the internet, I followed their updates. A few months after I graduated college, I went there. I lived there for almost a year, working in the construction department pouring concrete and welding. (Read more about my experience at Arco here.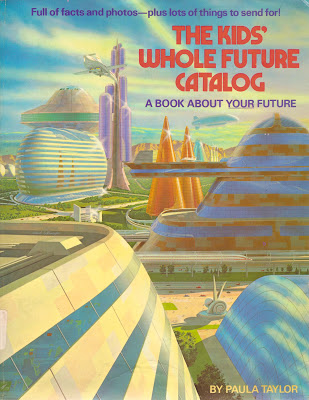 Ms. Taylor's book inspired a lot of dreaming in a young man.
Forty years on, Arcosanti is far from complete. Many of the key parts of the city are still only dreams. It is chronically under-funded and under-staffed, without enough permanent residents to make a real, sustainable economy. Currently, construction is funded by donations, workshop fees (from those taking classes in siltcasting and arcology theory), tourists staying the night, and profits from a small organic farm.
The board has transitioned to new leadership, but Soleri's shadow is long and dense. Much like the Rural Studio, where Samuel Mockbee's spirit is still a tangible presence, 12 years after his death, Soleri's soul will continue to influence the community for years to come.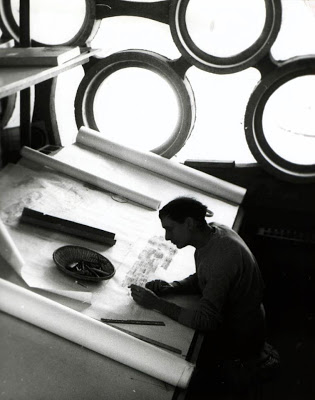 Paolo at work in his studio at Cosanti, in Scottsdale. He preferred to draw on large, continuous scrolls. Round windows behind him are made from precast concrete storm drain sections.
Paolo hated being called a visionary, but many of his ideas were far ahead of his time. He pursued life and architecture in a guerilla fashion, undermining the dominant paradigm with grassroots, ground-up change. The vision was always self-funded, DIY, built with hard labor and secondhand equipment, scratched out of the desert floor.
Now, as we face down peak oil, climate change, and all the rest, his vision of an anti-car city seems no more far-fetched than canoes in the streets of Breezy Point. The greatest monument to his life and legacy lives on in the Arizona desert, and I hope it continues to grow and thrive.
The project I worked on at Arco, a giant retaining wall/sculpture/inhabitable landscape under the pool. Paolo would come up from Phoenix, we would hoist a pre-cast panel in the air with the crane, and put it where he wanted it to be. We would cast concrete around it, locking it into place, and then he would come up again the next week and repeat the process.